So for example, if f=1kHz: R1=5 k W, R2=50 k W, C1=31.8nF, C2=3.18nF
Note that the smaller resistor will more or less determine the impedance which your preamp will see, while the larger one is the main factor for the insertion loss, so things may get tricky if your amp has a low input impedance.
The amp's input impedance lies in parallel to C2 and R2.

In the hi-pass the input impedance of the amp is parallel to the capacitor C2. If the input impedance gets lower, this has two consequences: the insertion loss gets higher and the xo frequency is shifted upwards. To compensate, calculate C2 in the hi-pass as follows: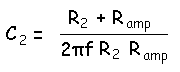 Note that the input impedance of your power amplifier needs to be fairly high to make a 2nd order hi-pass feasible. You can allways use the input impedance of your amp as the 2nd shunt R when calculating C2, and just leave R2 out.